Avoiding Keyword Stuffing – How Much Is Too Much?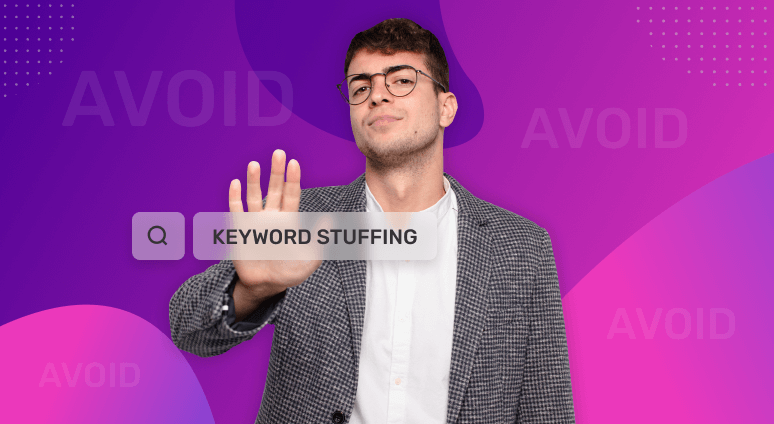 There are currently about 4.66 billion internet users in the world, according to Datareportal. But, how do you attract a good chunk of this vast traffic to your website or blog? It is by following the best SEO practices and not using black hat techniques and shortcuts like keyword stuffing for fast gains.   
You may ask what keyword stuffing is? It fills the website content with the same keyword so that it ranks higher in search engine results for that phrase. Some SEO practitioners still utilize this technique to increase their site's search visibility. 
Examples of keyword stuffing are:
Using irrelevant keywords to a page's topic 

Placing blocks of a single keyword 

Adding out-of-context words 

Needlessly repeating phrases or words 
In a nutshell, keyword stuffing is a method that overuses a single keyword and exceeds the parameters of keyword density. 
Is keyword-density optimization still relevant?
Keyword densities continue to be essential for good SEO practices. Many SEO experts disregard it but this creates more opportunity for you if you focus on creating valuable and optimized content. 
To make sure you meet keyword density guidelines, you can follow the below tips:
Keywords:

Do not depend on one keyword. Rather, you should use a collection of related phrases to create and optimize content. Use plurals and variations of the keyword. Include smaller keywords embedded in the main keyword phrase. This will ensure diversity and give you a selection of keywords for optimization. 

Keyword Density:

Most SEO guidelines recommend a keyword density of 1% to 1.5%. So, distribute your keywords widely across the web page. Include them in the first and final paragraphs and space them well across the blog post or article body. This tells Google that the keywords are not tied to a single section on the page. 
In case you exceed the given keyword density, you can utilize appropriate synonyms.
Tags:

Use the keyword in important tags like alt, H1, and H2 on your site. It helps keep the content SEO-optimized while resulting favorably for search engine rankings. 

Over-optimization is a real thing
Too much elimination of keywords or overuse of synonyms is undesirable in SEO practice. It can lead to over-optimization. 
So, don't focus on making too many improvements. It can impact your site's ability to get a good ranking. If you go too far with optimization, you'll get unprecedented results. 
Earlier, over-optimization was effective. SEO practitioners used to send numerous spammy links to a website while stuffing keywords to boost its ranking. But things have changed now. Google's 2012 algorithm update penalizes sites for over-optimizing, link spamming, and link stuffing. To be precise, black hat SEO techniques have become illegal. 
Write for users, not for search engines
As Google's 2019 algorithms stress more on basic keyword metrics, there's a good reason why you should cater to the interests of your users and not the search engine algorithms. If you focus on inserting keywords and not on creating simple-to-understand, reader-first content, you may face negative consequences.
For instance, if you stuff your post with keywords, it will be over-optimized. Besides, it fails in providing value to your audience. Hence, users will not engage, interact, or share your posts, which will impact your organic ranking and traffic. 
These days, content quality is a crucial factor for search engine ranking. Your posts should contain an array of tertiary keywords that indicates to Google that your articles provide enough value to the readers. These keywords will be measured in terms of their contextual value rather than their density or exact use. 
Let's consider an example here. You are writing an article on 'personal loans.' So, what you can do is find relative terms to personal loans – be it a single word or a long tail phrase, and use them as secondary keywords in your article. Adapting to this process can help you avoid over-optimization.
Content-optimization instead of keyword-optimization
Keywords are not dead. But the focus of SEO has changed of late. Though keywords are still relevant, search engines have become smarter about their use and optimization, which in turn, has increased the complexity of SEO practice. Today, search engines value information-rich content more than keyword optimization. So, you should concentrate on writing in detail about a topic rather than using specific keywords.
Keyword optimization is passé, and the game today is about content strategy and optimization. With semantic search methods gaining more significance, it is now essential to provide readers with useful details and dominate your authority in a specific niche. 
So, how is content optimization different from keyword optimization?
Well, content optimization also uses keywords, but the creator encompasses the keywords intelligently in the post. That is, a writer is required to prove his knowledge and expertise on the subject matter.
How can you optimize your content? Here's the way to go! 
To write authoritative and valuable content, you need to determine your post's goals and its focus keyword.

Next, identify the needs of your target readers and deliver what they want. 

Start with a pillar article that broadly covers the topic and follow up with complementary articles that offer more detailed coverage of the subject.
You can leverage A/B testing to promote content optimization. 
Wrapping Up 
Though the importance of keywords is yet not diminished, it requires you to use them wisely. While keyword stuffing can harm your online presence, content optimization can help you enhance it.
Be mindful, you are creating content for your users and not search engines. If your users find the content valuable, search engines will automatically notice it as time passes by.
Are you planning your next article soon? Make sure you avoid keyword stuffing.