Buying "Guaranteed" SEO Services? Think Again!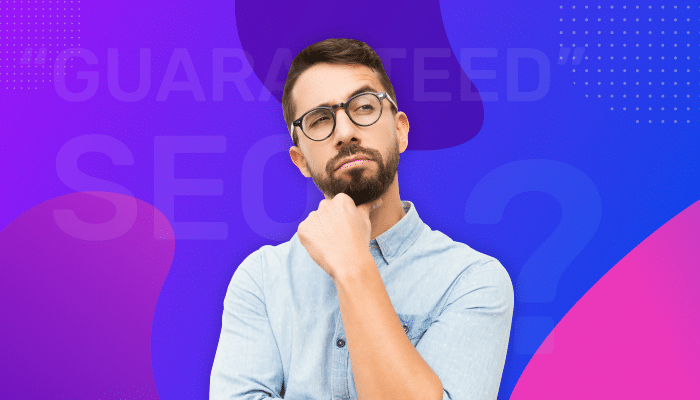 "Guaranteed SEO Services"
The phrase undeniably is tempting. Especially for those who want to get results and rank higher in no time. However, in reality, this phrase is one of the most critical red flags when you are about to hire an SEO agency.
Why? Let's find out.
Why you should not trust "guaranteed" SEO services
First of all, when an SEO agency claims "guaranteed SEO services", you should know what exactly they mean. Most of the time, it is the promise of delivering specific results like ranking on the first page of Google in so and so time. Other luring factors that accompany guaranteed results are that either they are complimentary for the first few weeks or promise a full refund of the amount you have invested, in case they fail to deliver the promised results.
However, these claims are most of the time hollow. Even if the agency can show results, they are either achieved by unethical SEO practices or the report graph does not contain the metrics that matter. For instance, the SEO agencies offering guaranteed results insist on choosing the keywords themselves. By doing so, they make things easier for themselves as they choose keywords that are easy to rank but may not be relevant to your audience base. So, for relevant audiences, your website will still be unknown, and yet they will be able to show that your website is ranking high for so and so keywords. In turn, it can irreversibly damage your business.
In addition, such SEO agencies invest little time in curating business-specific SEO strategies. The fact is that one-size-fits-all is not at all applicable to SEO. Optimization happens best when the requirements of the audience, plus search-engine, plus business are met.
Besides, the ranking on search engines is under no one's control. SEO is just one part of digital marketing. Several factors govern the ranking on Google. For instance, it is the relevant content that attracts quality traffic to your website. How much time users are spending on your website also determines the quality of your web page.
With several players having a significant role in placing a website at higher ranks, isn't it obvious that guaranteed SEO services are nothing more than just a myth!
Not to mention that search engines themselves warn against SEO Guarantees. With the constantly evolving landscape of search engines like Google, there is little chance for guaranteed SEO services to succeed all the time and maintain that success.
Google's Beginner SEO document states that SEO should offer you an attainable scope of improvement. If they give you guaranteed changes and place you at the first rank, find someone else. Google also specifically mentions that no one can guarantee the number 1 ranking on Google.
This brings us to the next important point- changing the algorithm by Google. Why does Google do that and what impact it has on a website's ranking is surely a thing to understand in great detail if you want to succeed with your SEO strategy.
Google continually change their algorithm
By now, it's almost a world-known fact that Google changes its algorithm over 100 times a year. Also, there is no specific time for these updates to occur. It can happen today, tomorrow, or just in the next moment.
The question here is- Why Google keeps on changing its algorithm?
Well, just like any other business, Google also keeps a tab on the online behavior of its users. The search engine wants to provide the best service to its users. In addition, it also keeps a watch on the content being published. Black-hat and unethical ways of getting higher ranks, along with the desire of serving the most relevant results to users, make the search engine constantly change their algorithm.
Now, you may wonder why is it important for you to know about the algorithm updates? You should know this because if you own a website, then these changes will impact your traffic and ranking as well.  Some of the changes will have a greater impact and others may go unnoticed. Another thing to note is that every update focuses on different SEO aspects, like content quality, keyword stuffing, duplicate content, and so on.
Google analyses various points on these SEO aspects of your website. If they are in place and ethically aligned with Google's algorithm updates, your website may automatically jump to higher ranks, or else it may drop.
That is why it is important to follow ethical SEO practices. It is another reason why you should think twice before hiring "Guaranteed SEO services".
Black hat tactics are a long-term gamble
As stated earlier, unethical SEO practices that are the Black-hat tactics may give you quicker results but will negatively impact your website in the long run. No doubt, black-hat tactics are easy to implement and have low competition, but the reality check is that the consequences are greater in number and impact than the pros.
The reason is that black-hat SEO practices exploit the loopholes (if any) in Google's algorithms. It may expose the website to fraudsters, scammers, and other vulnerable cyber risks and threats. It may result in the banning of the website and harm the reputation of the website.
A lot depends on other Partners:
If you are looking to rank higher on search engines, then along with white-hat SEO practices, a strategic partnership could also be a way to grab the spotlight. Whether you are a big-size, mid-size, or even small-size company, teaming up with brands can help you gain an edge over your competitors.
A strategic partnership could be a game-changer for your SEO.  A reliable partner can help you in expanding your audience base, creating shareable content, and gaining valuable backlinks and media attention.
To wrap-up, instead of going for "guaranteed SEO", it is better to build your SEO strategy on reliable and ethical practices that will give you sustainable results and build your brand.